Music for Mandolin, Guitar and Voice


Assembly Room
Takoma Park Presbyterian Church
310 Tulip Avenue, Takoma Park, MD
This program covers a period of five centuries, including lesser known original mandolin works by Vivaldi and Mozart, an unpublished work by American mandolin virtuoso Valentine Abt (1873-1933), and nine works by living composers, five of them world premieres. In addition to myself and guitarist / composer Steve Smith, composers Elizabeth Vercoe and Clara Lyle Boone will be attending the concert. Many of these pieces are the result of my efforts to expand the mandolin's repertoire in both directions - through research of the early literature and by encouraging the writing and performance of new music.
My piece, Threnody, which opens the concert, was written last October. I was busy preparing for my last recital when the events of September 11 occurred. I had a difficult time trying to concentrate on my practicing, so I spent one evening writing this short piece to express what I was feeling at the time. I was reminded that I may not have forever to do everything I had planned, and that was the inspiration I needed to finish writing my Thomas Campion songs and plan this concert. The unifying themes for this concert are people I wanted to work with, pieces that I had meant to get around to playing, and some old favorites that I was overdue in revisiting.
The Vocal Works:
Vivaldi is most often associated with the mandolin for his mandolin concertos, and Mozart for the Serenade from Don Giovanni. Vivaldi's first use of the mandolin, however, was in the oratorio, Juditha Triumphans, which has one aria with obligato mandolin. Mozart also wrote two songs with mandolin accompaniment: Zufriedenheit and Komm, Liebe Zither, and my search for music to program with them led me to the other vocal works on this concert. One of the first songs I found was Clara Lyle Boone's Slumber Song, written for voice with unspecified melody instrument. The composer, a Washington, DC resident, was very happy with the way it worked on the mandolin, and I have played it several times over the last 20 years. More recently I found The Girl's Song to Her Mother by Hilary Tann, also written for voice and melody instrument, and played here on the mandolin with the composer's approval.
One of my early finds that I was very excited about was the Suite pour Chant et Violon, written in 1923 by Heitor Villa-Lobos. This is a masterpiece written for the wrong instrument! The violin part consists primarily of rapid repeated notes, staccato double-stops and strummed pizzicato chords - perfect mandolin writing. My own first contribution to the vocal repertoire, Three Songs After Thomas Campion, will be receiving its first performance on this concert. Thomas Campion appealed to me because he was both a poet and a composer. He set his own texts with lute accompaniment, so there was already a history of singing them with a plucked instrument. I kept Campion's melody for the first song and just wrote a new accompaniment for the mandolin. For the last two songs, I used his texts, only, and wrote entirely new music. I wrote my first sketches for these songs twenty years ago, did most of the writing last year, and completed them earlier this year.
Elizabeth Vercoe's Herstory IV is the largest scale vocal work on the concert, and is her third mandolin work written for me. It has been performed twice in an alternate version for voice and marimba, but the original mandolin version will be receiving its first performance. The composer writes: "Herstory IV is a setting in one movement of two related and highly personal poems by May Swenson. The two poems are intertwined to give the impression of a story about two lovers who struggle, each in his own way, to reach the other person."
Our closing works by Henry Purcell and Scott Joplin have nothing to do with the mandolin, but we needed something to feature our two co-divas! These were both favorites of mine from recordings bought during my college days, and they fit our sub-themes of English and American music, so I arranged the accompaniments for mandolin and guitar.
The Instrumental Works:
Henry VIII predates the mandolin, but his Taunder Naken works well on mandolin and guitar, with its complex rhythms and syncopations. Written for unspecified instruments, it may well have been played on the early plucked instruments of his time. The Sonata in D by Carlo Arrigoni is an original work for mandolin and continuo, which I discovered in manuscript at the Library of Congress during my student days, and later edited for publication by Plucked String Editions. It is one of the finest mandolin sonatas to come from the Baroque period, sounding at times like Handel, and often using daring harmonies.
Valentine Abt (1873-1933) was one of the greatest of the early American mandolin soloists. Many of his compositions were published, and he also made a handful of recordings for the Victor Talking Machine Company. His Artist's Valse was recorded at his 1908 session, but never published in sheet music form, so I have transcribed it from the recording. My own Carousel Waltz was not intended as a concert work, and was written (for the organ) to be the opening credit music for a short film. I recently arranged it for mandolin and guitar, and it will be receiving its first performance in any form on this concert.
Beth Anderson's beautiful September Swale was written for harpsichord or piano in 1993, and arranged for the German mandolin and guitar duo of Daniel Ahlert & Birgit Schwab, who recorded it on their CD, Chilli con Tango. The composer writes: "A swale is a meadow or a marsh where there is nourishment and moisture and therefore, a rich diversity of plant life. My work, since 1984, has been made from swatches (of newly composed music, rather than found music) which are reminiscent of this diversity. When a horse named Swale won the Kentucky derby several years ago, I discovered the word and have used it extensively."
Brian Israel's Sonatinetta won first prize in the Festival of Mandolins Competition in 1984, and has been commercially recorded three times. His music is marked by extreme contrasts in tempo and mood, often following a witty (or downright funny) movement with one that is deadly serious. The opening Toccata has constant meter changes, while the final Menuetto only ventures away from 3/4 enough to make it undanceable. The climax of the piece quotes the Prelude to Tristan and Isolde, after anticipating it several times. Brian went on to write two more mandolin works before his death at 35 from leukemia. One of his last works, his Mandolin Concerto, was dedicated to me and written entirely from his hospital bed.
Steve Smith's Funfair on a Single Malt was written in 1999 for violin and guitar, and after looking at the score, I informed him that it was also a mandolin piece. The composer writes: "The work contains both Celtic and American influences. It can be taken either straight or 'on the rocks' - according to taste!" Also receiving its U.S. premiere is his guitar solo, Café Ursula 1995. "Written for my kids christening. Two sections reflect their two distinct characters....... Title is part tribute to the great Argentinean tango composer Astor Piazzolla, and also to a rather fine sea-front watering hole in Helsinki."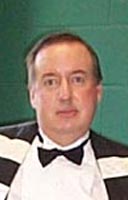 Neil Gladd received his B.A. in Music from Virginia Tech in 1978, but is entirely self-taught on the mandolin. He has appeared as a mandolin soloist at Carnegie Recital Hall, Merkin Hall, the Kennedy Center, the Smithsonian Institution, at mandolin festivals in Germany, Sweden, Belgium and Japan, as well as in recital in Canada, England, France and throughout the U.S. His repertoire ranges from Bach to vaudeville to contemporary music, and more than a dozen new works have been written for him. He has appeared on national television on the PBS American Experience series (If You Knew Sousa) and on-stage as a costumed musician for the Shakespeare Theatre's productions of "The Comedy of Errors" and "Much Ado About Nothing" (with Kelly McGillis and David Selby). In 2000, he performed at the Kennedy Center with the National Symphony, the Kennedy Center Opera Orchestra, and the Choral Arts Society, as well as with the Wolf Trap Opera Company, and the Philadelphia Orchestra under Rostropovitch. Last year he appeared onstage in costume for the Summer Opera production of The Merry Widow (the source of this photo), made some recordings on wax cylinders using 100 year old technology at the Edison Historic Site (the first recording studio), and did a mini-tour of three solo recitals.

Mr. Gladd has taught mandolin at Shenandoah College & Conservatory of Music as well as at the Levine School of Music in Washington, DC. Since 1982 he has been the Music Editor of Plucked String Editions, the only publisher of classical mandolin music in the U.S. He was the first editor of both the Classical Mandolin Society of America Newsletter and Mandolin Quarterly. In addition to his work as a performer and composer, Mr. Gladd is also a leading authority on mandolin history and recordings. Among his future projects are a CD of American mandolin music (with pianist Carol Feather Martin), a mandolin discography, and a book on composing for the mandolin. In his spare time, Mr. Gladd works as a Performing Arts Examiner in The United States Copyright Office.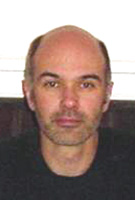 Steve Smith graduated from the Royal Northern College of Music where he studied guitar with Gordon Crosskey and participated in master classes with John Williams. Since 1982, he has worked with all the major British orchestras both as soloist and in chamber music. He appears regularly with the London Symphony Orchestra, the London Philharmonic Orchestra, the City of Birmingham Orchestra and the English Baroque Soloists. He has worked with Mstislav Rostropovitch, Sir Simon Rattle, Michael Tilson Thomas and John Eliot Gardiner amongst others. Whilst primarily a guitar player, he has built a reputation as a virtuoso performer on both mandolin & banjo. He is possibly the only artist ever to have performed concerti on all three instruments in the same concert.

His major artistic energy is devoted to contemporary music, and it is in this field that he has achieved the greatest distinction. He has worked closely with some of this century's most influential composers, and has premiered works by Sir Michael Tippett, Hans Werner Henze, György Kurtág and John Tavener. In 1996 he performed the solo banjo mandolin and guitar part in the premiere of John Adams' Clarinet Concerto Gnarly Buttons with Michael Collins and the London Sinfonietta, and went on to record the work for the Nonesuch label. He has performed, broadcast and recorded extensively with the London Sinfonietta, the Nash Ensemble and in 1996 featured prominently in Sir Simon Rattle's epic exploration of 20th century music Leaving Home for Channel 4 television.

He has also been involved in many community music projects; working with the London Sinfonietta's ground breaking education department, in prisons, hospitals and schools. He is the first choice guitarist of a number of leading conductors including Oliver Knussen and David Atherton and John Adams. In 1999 he performed the solo guitar part in Sir Michael Tippett's opera King Priam with David Atherton and BBC National Orchestra of Wales at the South Bank Centre. The same year saw an appearance in the Per Nørgård portrait concert at the Aldeburgh International Festival.

In 1999-2001 he was involved in Viktoria Mullova's Through the Looking Glass project, with many leading performers including Julian Joseph, Paul Clarvis and Matthew Barley. The project resulted in a CD recording for Phillips and an extensive world tour.

As composer, his works have received broadcasts on BBC Radio 3 and Granada Television, and have been performed in the UK, Finland, Sweden, the USA and France. Whilst resident in Finland he received three commissions, the first from Finnish saxophonist, Janne Murto for whom he wrote The Round Thing for jazz quintet, premiered at the Sibelius Academy in Helsinki, for Jyväskylä Chamber Orchestra, he wrote Another Chance to Slip, Goes Down... for 5-string banjo and strings, and in 2000 he wrote and performed his mandolin concerto A Particular Peak for the City of Mikkeli Chamber Orchestra. He has also written music for Finnish television channel YLE.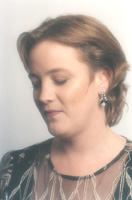 Marjorie Bunday, who grew up in the Washington area, has sung as a soloist with the Washington Bach Consort, Alexandria Choral Society, Cantate Chamber Singers, Capitol Hill Choral Society, Bach Sinfonia, Alexandria Chorale, Washington Musica Viva, and many small early music ensembles, in venues that include the Kennedy Center Concert Hall, Anderson House, and the Embassy of the Czech Republic. She enjoys an active singing career that includes professional chorister positions with the Washington Bach Consort and the Palestrina Choir. Although Marjorie is becoming well-known to Washington audiences as a soloist in the Baroque repertoire (solo engagements in the 2001 - 2002 season have included Bach's St. John Passion, Handel's Messiah, Vivaldi's Gloria, and Purcell's Welcome to all the pleasures), her performing résumé also includes songs of Gershwin, Brahms, Ives, Debussy, and later 20th century art songs by Petr Eben, Lori Laitman and Paul Bowles. In 1999, Ms. Bunday was the contralto soloist in a Venice, Italy performance of Cavalli's Vespro Della Beata Vergine of 1656 with the Cavalli Choir and Consort, a collaboration between Washington-based singers and Venice-based instrumentalists (from the original-instrument ensemble Accademia di San Rocco). She had previously performed in Venice as a soloist in Monteverdi's Vespers (1610), and has been featured in performances with Washington-area choirs touring cities in France, Russia, Estonia, Finland and Sweden.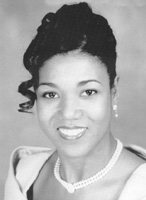 Joyce N. Lundy, soprano, for three consecutive Decembers (1999-2001) has offered a vocal tour-de-force by singing the soprano solos in Handel's Messiah with the McLean Symphony and the Messiah Community Chorus. In December of 2001 Joyce sang the Messiah with the Washington Opera Orchestra and Messiah Community Chorus at the Kennedy Center for the annual Sing-A-Long. Also in December 1999-2001, Ms. Lundy appeared as Mary in the Friends in Music Ministries' production of Glen Burleigh's Born to Die. Ms. Lundy made her operatic debut as Nella with the Municipal Opera Company of Baltimore in its March 2000 production of Gianni Schicci. Ms. Lundy is also on the roster with the Diaspora Opera Company of Washington where she has sung the title role of Zuleika in Barthe's La Fiancee d'Abydos and the title role of Amelia in Donizetti's Elisabetta al Castello di Kenilworth. She began her singing career in Washington, D.C. at the age of 12, when she joined the adult choir of Augustana Lutheran Church, where she was featured as soloist in such works as Schubert's Mass No. 4 in C major, Bach's Magnificat, Vivaldi's Gloria, and Handel's Messiah. She earned her bachelor of music degree in vocal performance from Bucknell University where she performed as a soloist with the Bucknell University Chorale and Symphony Orchestra. She also appeared at Bucknell in the title role of Baby Doe in John Latouche's The Ballad of Baby Doe and in the leading role of Pamina in Mozart's The Magic Flute. Ms. Lundy completed her master of music degree in operatic performance at the University of Maryland where she sang the role of Figaro's fiancée, Susanna, in Mozart's The Marriage of Figaro; and as Betsy in Sweet Betsy from Pike, a 25-minute opera satire with music, book, and lyrics by Mark Bucci. She also interpreted the role of La Fortuna in Claudio Monteverdi's 1640 opera Il ritorno d'Ulisse in Patria ("The Return of Ulysses to His Own Country"), in a performance at the Museum of Natural History in Washington, D.C. Miss Lundy was the winner of the 2000 National Association of Teachers of Singing Vocal Competition, and runner-up in both the 2000 Leontyne Price Competition and the 2001 Maryland Opera Society competitions. Joyce will make her Wolf Trap debut this summer in the company's presentation of Kurt Weill's Street Scene.
Tickets are $15, and may be bought at the door or online through BillPoint. (Click on the logo below for more information about their secure online payment system.) To order tickets, CLICK HERE to send us an email. Give your name and the number of tickets you wish to order. You will be sent an electronic invoice that can be paid by credit card or e-check. After we receive your payment, you will receive a confirmation email giving your ticket numbers. The tickets will be held at the door under your name. We are not able to take credit card payments over the phone or at the door.





---

Directions:
The concert takes place in the Assembly Room of Takoma Park Presbyterian Church, 310 Tulip Avenue, Takoma Park, MD 20912, on the corner of Maple and Tulip. Directions from the TPPC web site.
It is recommended that you come by Metro, as the Church is in a residential neighborhood and has only limited street parking (no parking lot). There is parking nearby, however, at the Takoma Metro Station, along the street on Carroll Avenue, and in a small lot on the corner of Carroll and Willow.
Any further questions? Send us an email!